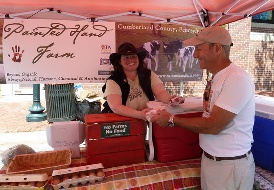 ©
Copyright 1988-2017 Sandra Kay Miller- All rights reserved.

Visiting Painted Hand is like living a crash course on all that's right with food and farming today – taught by one of the most delightful people to ever to rebuild an antique Babson Surge Milker (and use it!)or raise a goat from birth to curry pot. A free-range spirit who left the California oil fields and hight-tech industry to come back East, Sandra Kay Miller uses a traditional respect for the land and animals, cutting edge farming and marketing techniques and immense dollops of elbow grease to reclaim an abandoned property from briars and disintegrating trucks and turn it – against the odds – into a successful farm. In addition to blending careless wisdom on agricultural operations with how best to eat well with whatever's grown or caught in the Pennsylvania hills and valleys, Sandra's conversation is laced with piquant observations about yuppie foodsters, meddlesome bureaucrats, colorful neighbors and everybody else in the farm-to-market food chain. There's nothing like getting your boots muddied (or a little goat palcenta on your jeans) at Painted Hand Farm. Until you get a chance to drop by, though, reading what Sandy has to say about humane, profitable and sustainable farming and the rare alchemy that brings them both together is the next best, and the next funnest, thing.

"What you have done for me is renewed my belief in the'get er done'
spirit that it takes to achieve any thing worthwhile. You are the epitome
of a willing worker and friend of all seasons. Thank you for invading my
life with your positive spirit!"
Jonas K. Stoltzfus
JuJo Acres
Certified Organic Grass-fed-only Beef

"I feel your work has improved the lives of many people. You're in a position to change lives with healthful advice & food. As a chef for the last 30 years I have my philosophy down to three words - eat real food - and feel you have provided me with an opportunity to do just that. I am the middleman, however, your hard work enables me to serve my guests a healthy choice. Thank you for all you have done to enhance our restaurants & community."
Ross Morris
Owner of Piatto, Cafe Bruges and Andalusia restaurants


To learn more about Sandra's farming endeavors, visit her website for
Painted Hand Farm.

"Last night Ann made the veal roast I bought from you. It was not the best veal I ever had...it was the best meat I ever had. You have amazing product and we are thrilled to have you at the market!!!

Mitch Berliner, founder of MeatCrafters and the Bethesda Central Farmers Markets